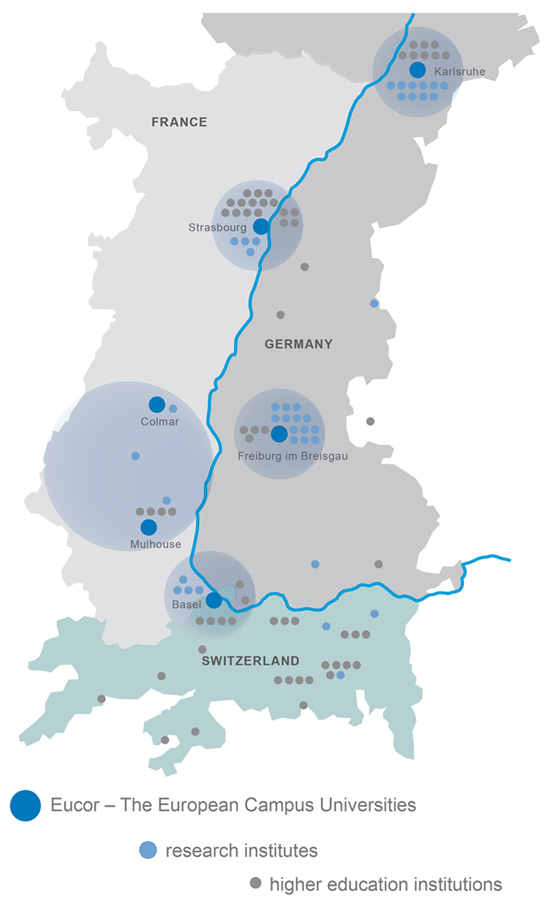 University of Basel
Founded in 1460
∼13,000 students
The University of Basel is the only Swiss partner university in the European Campus. With its seven faculties, the oldest university in Switzerland offers a broad spectrum of academic disciplines. It also competes on an international level with its five strategic focal areas: Life Sciences, Visual Studies, Nanoscience, Sustainability and Energy Research, as well as European and Global Studies.
University of Freiburg
Founded in 1457
∼25,000 students
Freiburg is known as the "Green City" and is famous for its Black Forest mountains, high environmental standards, and (of course) its university, which is one of Germany's oldest. From the humanities and engineering to the University Medical Center, which is one of the largest medical facilities in Europe: The comprehensive university offers ideal conditions for research and teaching and has produced ten Nobel Prize winners, who have also taught at University of Freiburg.
University of Haute-Alsace
Founded in 1975
∼10,000 students
The University of Haute-Alsace consists of several campuses located in Mulhouse and Colmar. This young university was formed through a merger of several older higher education institutions in Mulhouse, including the École Nationale Supérieure de Chimie in Mulhouse (ENSCMu), which was established in 1822 and is the oldest school of chemistry in France. The main focus of the University of Haute-Alsace is on the natural sciences and engineering.
Karlsruhe Institute of Technology
Founded in 2009
∼25,000 students
The Karlsruhe Institute of Technology (KIT) was established in 2009, when the Karlsruhe Research Center and the University of Karlsruhe were merged. As "The Research University in the Helmholtz Association", KIT fully exploits its synergy potential resulting from combining tasks of national big research with those of a state university regarding research, teaching, and innovation. With about 9,300 employees and a yearly budget of about 850 million euros, KIT is one of the big institutions of research and higher education in natural sciences and engineering in Europe.
University of Strasbourg
Founded in 1612
∼50,000 students
The University of Strasbourg is the most international of all French universities after Paris. 20 percent of its entire student body, including PhD candidates, are from abroad. Founded in 1612, the university boasts a colorful French-German past. The University of Strasbourg is characterized by its interdisciplinary research, its wide-range of degree programs, its many cultural events. Three Nobel Prize winners are doing their research at the University of Strasbourg. In 2016, it became one of three universities in France to be selected as a permanent Center of Excellence.